CHAZ ORTIZ WINS THE 2008 AST DEW TOUR!!!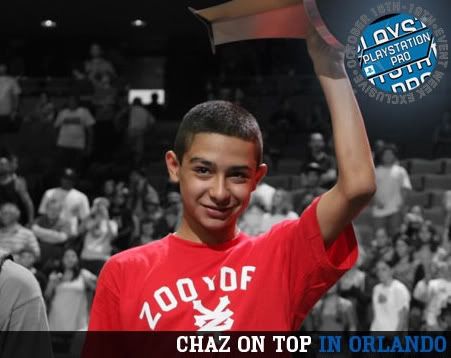 After winning the PlayStation® Pro Skate Park Finals to seal the deal, 14 year-old rookie Chaz Ortiz. is the new sheriff in town.
"It's been ridiculous," says Ortiz. "Last year I took 6th in this contest as the Free FLow Tour champ and now I'm the Dew Cup champ. It's unreal.  I wasn't expecting it, but I'm psyched."
Final score? Ortiz on top with 92.75, P-Rod in 2nd with 91.25, and Lutzka in 3rd with 86.75.
The win put Ortiz's overall points total to 430 to make him the youngest Dew Cup champ in the history of the AST Dew Tour.
"I'm going to be out here trying to take it home again next year," says Ortiz, now a 9th grader in his hometown of Chicago. "But first things first: I have to go back to school on Wednesday."
Find out more at ast.com.